Spidsbergseter resort Rondane
Address

: Flaksjølivegen 82, 2632 Venabygd
show map
Location: Gudbrandsdalen
Hotel | Situated two miles from the Rondane National Park, the Spidsbergseter Resort Rondane offers excellent accommodation in a region surrounded by hiking and cross country ski trails.
The nearby lakes, which can be viewed from most hotel rooms, also provide an excellent opportunity for canoeing and fishing, two extremely popular summer activities.
An in-house spa, complete with indoor pool, sauna, hot tub and steam bath offer guests relaxation year-round in one of the most spectacular regions of Norway. Another unique feature is the Aquavitfjøset bar, built in a converted shed, offering 75 different varieties of aquavit, the national drink.
With a well-stocked shop and bar area, where light meals are served during the day, there are also a number of indoor and outdoor seating areas. The cosy interior lounges feature traditional Norwegian fireplaces, always cosy and inviting, providing the perfect place to snuggle up after a busy day full of activity. And if all that fresh air has built up an appetite, the restaurant serves an extensive evening buffet, which features a number of traditional local dishes. In fact, the magnificent buffet is a feature mentioned by many who come to stay all year round, and to enjoy the famous hospitality, for which the area is famous amongst seasoned travellers.
Compare "Spidsbergseter resort Rondane" with similar alternatives
Sygard Grytting is a distinguished medieval farm hotel, with a history dating back 700 years. It is among Norway's most beautiful and best preserved of its kind, and looks like it belongs in one of the folk legends. Guests can stay in farm buildings dating from 1650 to 1860, and enjoy a hearty traditional meal prepared with fresh ingredients from own vegetable and fruit garden. The hosts at Sygard Grytting are the 16th generation owners of the farm.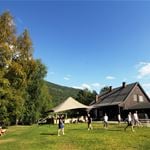 At our base we have big rooms that you can stay in which overlook the beautiful Sjoa River.