Sygard Grytting
Address

: Kongsvegen 999, N- 2647 Sør Fron
show map
Location:
Hotel | Sygard Grytting is a distinguished medieval farm hotel, with a history dating back 700 years. It is among Norway's most beautiful and best preserved of its kind, and looks like it belongs in one of the folk legends. Guests can stay in farm buildings dating from 1650 to 1860, and enjoy a hearty traditional meal prepared with fresh ingredients from own vegetable and fruit garden. The hosts at Sygard Grytting are the 16th generation owners of the farm.
Historic hotel and medieval hostel.
As guests step across the threshold at Sygard Grytting, they enter a home and a traditional Gudbrandsdal-farm with 20 log buildings steeped in history. All are authentic, and most are still used for the purposes for which they were built – a genuine olden-day farmhouse experience.

Accommodation is available in 7 rooms sleeping a total of 15 (20), and all have their own bathroom. The rooms are located in the main building from the 1850s, an old farmhouse from the 1600s and a farm-hand cottage converted in 1860. Spending a night in these historic surroundings is a truly memorable experience. The 60 sq m. cottage can be hired as a "suite" all to yourself, where you can light the open fire and sleep in fold-down beds.
Sygard Grytting also offers medieval-style hostel accommodation in a protected building from the 1300s (converted in 1780). This is Norway's only preserved loft of its kind, and guests use own sleeping bags on beds covered with fur rugs. The 5 rooms can sleep around 20 people.

Meals at Sygard Grytting
Meals at Sygard Grytting should fit the surroundings and be a grand experience in themselves, and the hosts take great pride in serving the very best of home-cooked food based on local traditions and specialities. Most of the ingredients used are from the farm and its surrounding area, and all food is made from scratch. On the menu are dishes of lamb, elk, reindeer and mountain-lake fish. Soups and gravy are made from real stock. Desserts are mainly based on berries and fruit from own garden. Bread, flatbread and cakes are home-baked, and the jam is the farm's own product.

Attraction
Close to Sygard Grytting, you will find the art installation "Flokk" (Herd) – a spectacular sight in the cultural landscape. "Flokk" comprises 21 tall, narrow bronze figures looking out over river Gudbrandsdalslågen. The sculptures were erected in 2011, and are the work of artist Gitte Dæhlin.
Compare "Sygard Grytting" with similar alternatives
Situated two miles from the Rondane National Park, the Spidsbergseter Resort Rondane offers excellent accommodation in a region surrounded by hiking and cross country ski trails.
Beautifully situated at the top of the mountain valley of Espedalen at 930 meters above sea level, Dalseter Høyfjellshotell has a wonderful view of the valley and the mountains in Jotunheimen National Park.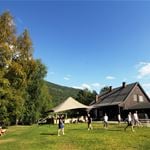 At our base we have big rooms that you can stay in which overlook the beautiful Sjoa River.